Made in China oxalic acid in bulk price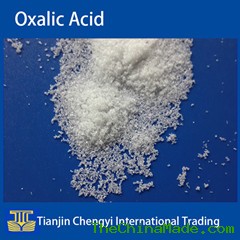 Brand:
TJCYINT
Specification:
Location
Shanxi/山西
Pubdate:
2017-09-02

【visited:129 favorite:0 comment:0】
Product Details
Formula : (COOH)2 2H2O
CAS NO. : 6153 - 56 – 6 / 144 – 62 - 7
Appearance : White crystal & powder; free flowing.
Uses : Purifying agent in pharmaceutical industry, special in antibiotic medication, such as Oxytetracycline , Chloramphenicol , etc; Precipitating agent in Rare-earth mineral processing;
Bleaching agent in the textile activities, wood pulp bleaching; Rust-remover for Metal treatment;
Grinding agent, such as Marble polishing;Waste water treatment, removing calcium from water.
Packing : In 25 kgs net Polywoven Bag , inner with PE bag ; In 25 kgs net Single Ply Polyethylene Bag , inner with PE bag;In 25 kgs net Kraft Paper Compounded bag , inner with PE bag ; In 300, 500, 1000 kgs jumbo bag are available.