steel pipe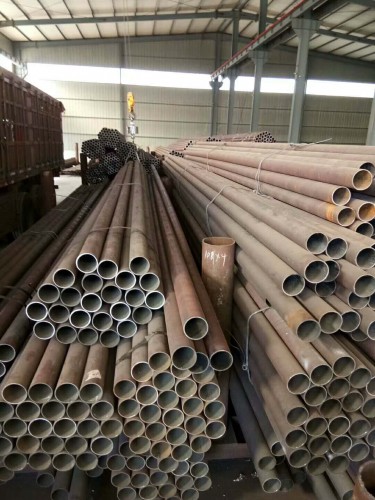 Product Details
My company is located in the beautiful and rich ancient city of Cangzhou, a Beijing-Tianjin-Hebei economic circle Bohai Economic Development Zone, 150 km away from Tianjin sea and air, from the Beijing-Shanghai Railway and the Beijing-Shanghai Expressway 35 km, 205 State Road, State Road 307 from both sides of the company Through, traffic is convenient. The predecessor company was founded in 1997, and in 2006 to expand the scale, the establishment of a new base is the production of steel pipe and pipe supporting the professional manufacturers, I hope business friends to plant business negotiations.
Throughout today, look to the future, my company is full of confidence and hope, determined to a better brand and good service, sincere cooperation with users at home and abroad for a better future!
Company's main products:
Multi-specification seamless steel pipe, LSAW double-sided submerged arc welded pipe, spiral steel pipe, API oil pipeline pipe, thick-walled steel pipe (20mm-120mm), hot dip galvanized steel pipe, anti-corrosion steel pipe, Pipe, the company testing facilities complete, staffing is complete, with ultrasonic eddy current testing, hydraulic testing machine, X-ray detection, the factory fully in line with GB8163-1999 GB8162-1999 GB9711.1-1997 SY / T6194-96 SY / T5037-2000 Standard, the export standard DIN German standard, ASTM American standards! Materials are Q235.Q345.20 #, ST35.8, ST37, ST42, ST45, ST52, A53, A106, A178, A315, A335, X42-X70 and other!
At the same time, our company is engaged in all kinds of seamless steel pipe, steel pipe, boiler pipe, fluid pipe, structural pipe etc. produced by well-known domestic manufacturers such as Baosteel, Tianjin, Chengdu, , Military machinery, hydraulic props, boiler instrumentation, decoration, construction and other industries with small and large caliber and special materials, special specifications, special-purpose, thin-walled seamless pipe and various domestic and imported seamless pipe and other metal alloy tube.
Our products are widely used in petrochemical, oil refining, gas, urban construction, air conditioning, steel and other fields, with its high-quality, low price, full specifications, superior service features by users praise! Welcome to use the unit with my company sales department contact, from a phone call, you will use to first-class products, enjoy the first-class service!
I solemnly promise to you: to ensure the best quality, the lowest price, the most complete after-sales service, to thank new and old customers. The library does not have the specifications can call in advance to order, to ensure on time arrival.
Companies adhere to honesty and mutual benefit, to provide customers the best service and the most affordable price, my company's office address in Cangzhou, Hebei, China Cangzhou City, Xinhua District, China Construction South Street, if you are interested in our products and services, please send E-mail consultation or call our phone, E-mail: steelpipe007@163.com Phone 5200940. Sincerely welcome friends from various circles to visit and negotiate business.